Content Marketing means creating content and putting it out on social media right? Wrong. There's a huge piece of the puzzle missing in that statement. Read the quote below.
Content marketing is a strategic marketing approach focused on creating and distributing valuable, relevant, and consistent content to attract and retain a clearly defined audience — and, ultimately, to drive profitable customer action.
Content Marketing is a strategy that should grow your business and generate profits.

As a content marketing consultant, I come across organisations who want a strategy for creating great content for their social media platforms. Unsurprisingly, I tend to face a few challenges including not contributing to meeting sales targets or achieving significant growth in the fan base.  Also, many brands face difficulties converting their fans into customers, or perhaps their fans are not having conversations with or about the brand. So, fans do not regard the brand as relevant.

If you are creating the content but you are not getting the growth, I'm going to show some aspects of social media marketing mistakes to avoid.

CHECKLIST: How to Write Great Content – A Checklist
Click to Read

1. You are too caught up with Social Media

We find many businesses get wrapped up in creating and sharing content and being social. That is great. Extremely great. Social media is meant to be fun. It is enthralling getting likes, shares and comments but, it can also distract from the real purpose of your social media and marketing efforts.

It is important to realise that your brand should implement a strategy that generates sales. Brand awareness is the only goal you meet if you create content with no plan and even then the strength of that the brand message may be wishy-washy at best.

Using a strategy provide focus to your content creation and delivery. Furthermore, with the strategy as your guide, content marketing efforts can be evaluated and reviewed opening up avenues for higher levels of creativity and niche content.

We worked with a small financial institution recently on their content marketing strategy. With such a complex business, it was crucial we identified precisely the target audience and our goals.

By performing research and analysis, we were able to reveal market sentiments. Team collaboration, data review and expert analysis provided clarity on goals and missions. Backed with our insights, we wrote our streamlined strategy and conducted a weekly meeting to develop and progress our strategy. We trained staff and built bridges across functional teams and with leadership.

All of this meant we were places strategically to craft out content based on target customer needs. Overall the process of content creation became orderly and filled with intent. Ultimately, the sales came in.
Get serious about making content marketing work for you.
2. You Are Not Using the Right Social Media Platforms for your Niche

Some gurus will say they use all the platforms. Some will say find one that you enjoy using. I recommend seeking out the ones that your ideal customer uses. Even if you use all the platforms, it makes sense to concentrate on building your business on the platforms where your ideal customers are active

Placing your brand on the right platforms will give you better results quickly because you can connect with the right customer.

I prefer to limit the platforms I use to the ones where my customers will be as well as ones that help me meet my business goals.

YouTube is the platform that provides a voice for my brand. Instagram is an excellent platform for building communities; Twitter I find fantastic for developing key relationships with influencers through the conversations that take place.  My experience of networking is enhanced with LinkedIn, and it's the platform where I drum up the most business for my consulting work.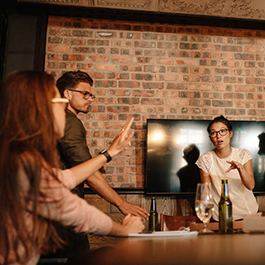 3. Make new connections with your target market


It's not a productive use of social media if you are not reaching out and talking with potential customers. It's vital that you use your brand to build communities of people interested in your brand.

In reality, you only need to carve out ten minutes daily to strategically engage. And by this I mean engaging with your target audience. For example, you should be leaving comments on their content and replying to the one they leave on yours. However, don't limit engaging to 10 minutes. By all means, if you can do more. Hire someone specifically for the job.

I recently reached out to one of our consultation clients. I wanted to recommend that they refocused their efforts.

The client is high net worth who provides premium products. But as spoken about in my first point, they had got caught up in the social spirit of Instagram.

All the content this client shared was incredible. Their existing network enjoyed engaging with it. There was no way we could fault the social interaction, But, the content created but not right for the brand. It would not achieve the goals of generating new business.

Taking into consideration who my client was and what they offered focusing on Instagram was not sufficient. As a high net worth brand, they needed new business and needed to be making new connections. Particularly on networks such as LinkedIn and Twitter. We presented the facts to the client and convinced my client to switch focus.

On Twitter, we could see potential clients were having crucial and related conversations to my client's product offering. My client joined the discussions there. Armed with a clear strategy, I trained my client in the use of the Twitter platforms, and the bookings came in. It was a similar situation on LinkedIn.

4. You need to Up Your Copywriting game.

The way you write your content matters. You need to get it right for your brand and its objectives. Don't try to imitate others without understanding the mechanisms of writing good copy. Know what to do and then look for ideas.

People try to wing it at copywriting, or they steal other people's work. Understanding how to write great content will help you convert your fans easier. Ideally, you'll develop the ability to establish a strong buzz around your product. With this, you will be able to influence and change minds with powerful ideas.

I have so many content creation techniques that I teach in my courses. They are in-depth, and use psychology, the art of persuasion and the methods of the most celebrated copywriters in the world, ever.

But, let me share with you two basic secrets to copywriting. This is what I do. And, it works

Firstly, tell a story. More importantly, share something personal to connect to your audience. Personal content strums up feelings of empathy. Consequently, readers feel compelled to leave comments highlighting their own experiences or insight. Or perhaps they want to cheer you on. However, they will only do that if they feel that personal connection.

Audiences that are touched emotionally by your content are more likely to hit that like button, share and leave a comment. The bottom line is, audiences love personal, passionate stories.

Another effective method of copywriting or of any persuasive writing is to imagine you are talking to your closest friend. For example, when you want audiences excited about what you are saying or writing, imagine your best friend sitting right in f,ront of you. Subsequently, as you write or talk in your content, use all the language and methods of influence, you would as if you were capturing and maintaining the interest of your friend.

Using psychological influences to persuade our nearest and dearest is intuitive to most of us. Use those same instincts to get your audiences excited about your content and taking action.

And that's it. If you don't fully grasp the in-depth mechanisms of copywriting, you can ramp up your content immediately by doing those two things.

To recap. One, always tell stories and two, pretend you are talking to a friend.

And that's it! You've come to the end of the article. However, any questions, leave a comment. We'll be sure to help.